Deciding on which dog breed
Pretty much any dog of sound temperament can be used to some extent as a protection dog, or at least as an alert dog. The smaller breeds (up to 50 lb) would obviously not be "man stoppers." Any larger-size dog could be a protection dog. Most dogs must go through vigorous training in order to understand when they are needed and how to be of help.
As an example, on occasion, police K9 dogs with the highest performance records in trials will be purchased by a police force and find themselves, chasing a suspect in a dark alley. But when the dog finally catches up with the criminal, it becomes highly confused and stressed, because it wants to bite him, but it doesn't see the familiar equipment. These cases are rare but they are evidence of how important it is to select the right training source for your protection dog.
What makes a good protection dog?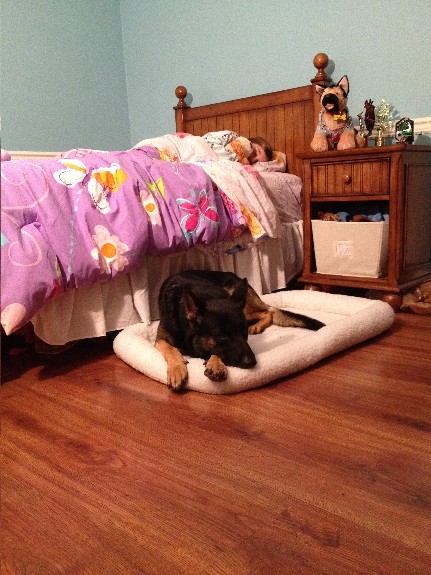 The dog has to have natural protective instincts, be pack-oriented, and/or territorial. Even a blood hound could do it (a rare case, but I have seen it done). Generally speaking, and only generally speaking, some breeds make better guard dogs (meaning they would do well protecting their territory), and others would make better owner-protection dogs (meaning they would do well protecting their owners).
Two of the universal protection dog breeds are the German Shepherd and the Belgian Malinois. At present, these are the two breeds that stand out from the rest. It is not an accident that around the world 99% percent of the police and army dogs are German Shepherds or Malinois.
Dogs health and development
Doberman Pinschers, Rottweilers Giant Schnauzers or a Bouvier, among others, could do just as fine a job, but the temperament of these breeds has been compromised in recent years by breeding for their looks, and the prevalence of genetic illnesses such as hip dysplasia has risen dramatically. So it is doubly important that when considering other breeds for protection work you really do your homework. We have dogs of other breeds that excel in family protection and have passed the necessary health screening. If we offer a breed other than GSD or Malinois you can be sure that we did our homework before investing the hundreds of hours needed to develop such a dog.